Background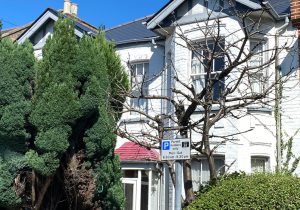 A long-term owner of a period house contacted us due to problems they were having with their replacement windows.
A window contractor was nervous about installing new windows within a bay window structure which was severely distorted and cracked, in case further movement occurs and the new windows fail to open. The owner sought our opinion to understand a way forward.
Pole service offer
We suggested our conventional Structural Engineers General Movement Report, but with particular reference to any cracking and movement to the front bay windows.
Technical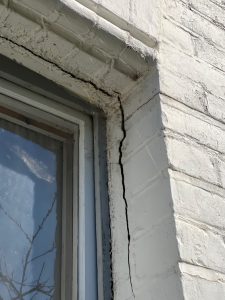 Our site survey found extreme distortion to the bay windows at the front. This was partially the result of some subsidence cracking, but was mainly due to an inherent defect associated with Victorian bay window construction.
Bay windows are often built using what we call half-brick construction, which is not very strong if not plumb and vertical. The very slender brick pillars tend to lean and bulge outwards, particularly when there is heavy weight above from the roof. We advised that the bay window should be repaired and stabilised before the window installation proceeds.
Careful site measurements would be needed to check that the windows fit the distorted window shapes. Part of one of the bay windows would need rebuilding since it would shortly become fairly unsafe.
Conclusions
The owner of the property notified their insurers, but with the understanding that most of the issues are an inherent defect in the construction and not covered by normal building insurance. NB Insurance is not for maintenance and inherent defects and should cover matters which owners cannot be expected to allow for, such as fire flood and subsidence.
Our advice was to rebuild part of the bay window prior to proceeding with the replacement windows. However, funds did not allow for all works to take place and therefore a compromise was to improve some of the bay windows but not others. Tree removal works were also required to reduce the risk of future subsidence.
We are here to help so please don't hesitate to contact us.